The Crosses of Lafayette
Monday, May 30th 2016, 7:00 PM
Deer Hill & Oak Hill Road, Lafayette
(across from Lafayette BART)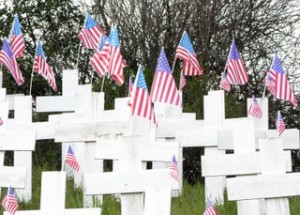 This year our peaceful fellowship will be joined by local dignitaries, poets and musicians. 
In the midst of the new troops that have recently been deployed in Syria by the current administration, we should not forget how the occupation of the Middle East is still ongoing.  Join us to remember, to honor and cherish the goal of a more peaceful future.
 PLEASE CONSIDER MAKING AN ONLINE DONATION TO THE CROSSES!
FUNDS WILL BE USED FOR PAINT, REPAIRS AND WEED CONTROL
"DONATE' BUTTON MAY BE FOUND ON RIGHT SIDE OF SCREEN >
No Comments »